The launch Of The "White Paper"
Novemeber 2013 Alex Salmon launches a detailed blueprint outlining Scotlands plans for independence
T.E.N.H.R.S
Date:24th January
Location: the Embassy art gallery
Re-enacted by
Paddy Murphy as Alex Salmon
special thanks to
The Embassy Art Galley
The SNP
A referendum on whether Scotland should be an independent country will take place on Thursday 18 September 2014.Following an agreement between the Scottish Government and the United Kingdom Government,the Scottish Independence Referendum Bill, setting out the arrangements for this referendum, was put forward on 21 March 2013, passed by the Scottish Parliament on 14 November 2013 and received Royal Assent on 17 December 2013. The question to be asked in the referendum will be "Should Scotland be an independent country?" as recommended by the Electoral Commission.The principal issues in the referendum are the economic strength of Scotland and whether the rest of the UK will agree to share the pound sterling, defence arrangements, continued relations with the rest of the UK, and membership of supranational organisations, particularly the European Union (EU) and NATO.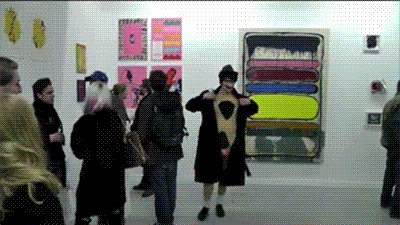 Paddy just finished re-enacting Alex Salmon launching the White Paper to a tough art crowd(quick exit) in The Embassy Art Gallery